so there you go.
i'm working on the goals for february...hahahahah, no i'm not. i'm just cooking. a lot. and trying to be healthier too! i found a fan-freaking-tastic
blog
(click on the link) from pinterest (of course), where the girl basically makes a million desserts that are low-calorie and have only healthy fats and natural foods in them. and they are soooooo good. i mean soooooo good. so so so so so good.
like this one. i made it on a whim wednesday evening right before bed. it was all i could do not to lick the food-processing bowl. so maybe i did a little.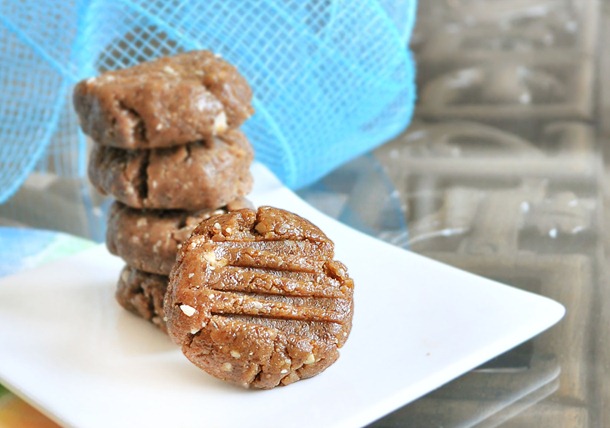 Peanut Butter Cookie Dough Cookies
link to the recipe and photo
here.
(gluten-free and sugar-free too!)
1/4 cup peanut butter

1/4 cup plus 3T raisins

salt to taste (I didn't use any because i used 'party peanuts' that seemed salty)

2 T roasted, unsalted peanuts (If you can only find salted, reduce or omit added salt)

1/8 tsp pure vanilla extract
put eveything in a food processor and do whatever you want. i rolled mine into balls and put in the freezer for my sweet cravings. they taste like no-bake cookies. they are freaking amazing. love, love, love, LOVE.
the only drawback of most of her recipes is that you need a food processor. i use my 'baby bullet' and it started smoking a little bit last night. but i think it survived. i have a huge food processor that i got for christmas 18 million years ago that i'm going to break out for the rest of the recipes.
and there you go. a lot of words.
the next thing i did was make a tuna salad for my lunch at work. except i made it healthier by using greek yogurt. so basically i just made it like normal but instead of the mayo i used green yogurt. and it was delicious.
1 can tuna (use white, albacore tuna in water)
2 TBSP greek yogurt
1 TBS yellow mustard or whatever kind of mustard you have
pickle relish to taste (i didn't have any, so i just used a little splash of pickle juice)
pepper to taste (do you use pepper?)
i think that's it.
mix. enjoy. i love me some good tuna salad. i am eating mine over some green-leaf lettuce for lunch. with an orange. and a pb cookie dough ball from above.